Kategorienarchiv: ATS
With Idaho's release just around the corner and with lots of testing, feedback, fixing and fine-tuning, we are excited to announce the arrival of update the 1.38 for American Truck Simulator!
We'd like to thank all those who took part in your bug reports, opinions, and general feedback. We hope you can now begin to fully enjoy the various new features which are included within this update. So, what can you expect to find in the 1.38 update ATS? Lets us give you a quick recap of the most significant changes.
---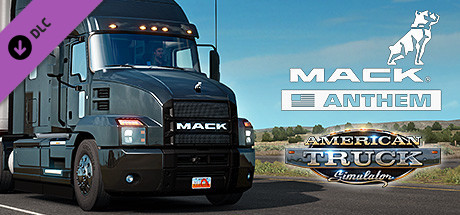 Kostenlos herunterladen!
It's time to discover an American legend. As one of the most significant new trucks in Mack's 117-year history, the Anthem combines the latest innovations with more than a century's experience in truck-building. The Mack Anthem's bold and rugged exterior makes it stand out on the road like no other truck and has been designed with the driver in mind.

Available in a wide array of configurations including 12 chassis variants, 6 engine variations, 14 transmissions and 3 different cabin types; you can be sure that the Anthem will be ready for any job long, short, big or small.
---
We'd like to thank every single one of you for all your help with your bug reports, opinions and general feedback during the Open Beta. We hope you can now begin to fully enjoy the new features included within this update.
---
We love to bring you new game updates, especially when they contain some cool features that you have requested for a long time; and we really appreciate all the help our great community provides with testing each new update during the open beta stage. Today, we'd like to invite you to help us finalize the features that are coming to American Truck Simulator along with the next update. Please read below, and if you like living on the edge, get ready to join the 1.37 Update Open Beta.
---
It's better to give than receive. It's a truth best learnt through experience, and it benefits all involved. That's why this year we are doing something very new and very special for our 2019 Christmas Grand Giving event in Euro Truck Simulator 2 and American Truck Simulator.




So, we are asking the community to spread the spirit of Christmas giving across all trucking territories! We have trailer loads of big gifts to give and we will be awarding stars to each city, based on the number of deliveries it gives. The more a city gives, the more stars that city gets. A great list of rewards await you.

Let's do the cities of the world justice and prove that they can, one and all, be the grandest of givers during this season of giving! You'll be able to track the community progress on World of Trucks or directly in the game using the updated External Contracts interface...
---