Kategorienarchiv: ATS
American Truck Simulator: 1.44 Update Release
We are happy to share with you that the 1.44 update has now been released for American Truck Simulator. This update is packed with new features and changes, so we recommend reading through them all.
---
There are some things in life that are timeless, where the memory remains as strong today as the feeling was in the past. Perhaps like the first time you were given your most favourite Christmas toy. If you agree then you may also concur that some toys from bygone days retain a charm and magic that makes them irresistible, even today, to both young and old alike. Moreover, we feel there is something incredibly rewarding when you get the opportunity in life to share such a toy with someone else. It's a chance to offer something special and personal, something from your past.
---
The big day is here! Preparations to release Colorado for American Truck Simulator are in top gear. We are also preparing for a special release stream with special guests. So when exactly is Colorado releasing?

Colorado for American Truck Simulator will be released at 7pm Central European Time
So what exactly does our Colorado DLC have to offer for truckers? These are just a few of the things we think you will love!

Drive from the great plains, through the Rocky Mountains to bustling cities and historical towns.
Haul cargo on the Million Dollar Highway
Discover Colorado's important industries like wind power factories or gold mines
Deliver freight to and from the inside of a large cargo aircraft in Denver International Airport
Admire representation of cities like Denver, Colorado Springs and many others
Visit landmarks like the Four Corners Monument and get a bird's-eye view on it with the viewpoint feature
Unlock Colorado-specific Steam achievements
and Much More!
---
With Idaho's release just around the corner and with lots of testing, feedback, fixing and fine-tuning, we are excited to announce the arrival of update the 1.38 for American Truck Simulator!
We'd like to thank all those who took part in your bug reports, opinions, and general feedback. We hope you can now begin to fully enjoy the various new features which are included within this update. So, what can you expect to find in the 1.38 update ATS? Lets us give you a quick recap of the most significant changes.
---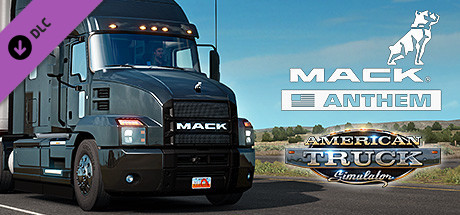 Kostenlos herunterladen!
It's time to discover an American legend. As one of the most significant new trucks in Mack's 117-year history, the Anthem combines the latest innovations with more than a century's experience in truck-building. The Mack Anthem's bold and rugged exterior makes it stand out on the road like no other truck and has been designed with the driver in mind.

Available in a wide array of configurations including 12 chassis variants, 6 engine variations, 14 transmissions and 3 different cabin types; you can be sure that the Anthem will be ready for any job long, short, big or small.
---